North Sydney vs. Newtown
Sunday 11th June, 3.00 pm
North Sydney Oval
Jets' inspired second half fightback overcomes the competition leaders.

In what was an epic contest between two well-prepared and determined teams, third-placed Newtown defeated the competition leaders Canterbury-Bankstown 28-10 in the 8th round Knock-On Effect NSW Cup fixture played at the Accor Stadium on Saturday, 22nd April.
Canterbury dominated the first half and led 10-6 at halftime, with Newtown's fullback Connor Tracey claiming a masterpiece try just minutes before the break.
The Bulldogs began strongly, taking a very physical approach and employing a fast-moving, hard-hitting defence. Newtown repeatedly had to bring the ball back from their own end of the field, and the pattern of the game began to resemble Canterbury's win at Henson Park three weeks previously.
Canterbury scored a converted try in the 13th minute on the back of two penalties, and added another try in the 24th minute to extend their lead to 10-0. At this point of the game the Bulldogs had a surplus of possession and were running more metres with the football than Newtown. Fox League commentator Mark Carroll praised the standard of the game and asserted that "if this game was any faster, it would be sponsored by Red Bull!"
Newtown's captain Billy Magoulias was sin-binned in the 30th minute for a dangerous tackle, leaving 12 Jets players to defend their end of the field on very tired legs. The Jets were certainly "under the cosh", but the Bulldogs lost the ball midfield and enabled Newtown to battle their way up towards Canterbury's twenty-metre zone. Fullback Connor Tracey scored a brilliant individual try in the 36th minute, beating at least six Bulldogs defenders with determination and elusiveness. Mawene Hiroti's conversion put Newtown to within striking distance at 10-6 in arrears, with the Jets having done well to be trailing by relatively few points after having a deficit of possession and running fewer metres with the ball than the Canterbury team.
Coach George Ndaira had encouraged his players at halftime by pointing out that they trailed 10-6 against the competition leaders after having only 40% of possession and fewer attacking opportunities at Canterbury's end.
Newtown scored the first try of the second half with backrower Jacob Gagan laying on a superbly-timed inside pass to Connor Tracey who dashed over in the north-west corner. Hiroti converted from wide out and Newtown now led 12-10. Five minutes later rugged hooker Jayden Berrell craftily positioned centre Kayal Iro for an unchallenged run to the try-line. Hiroti once again converted the try and Newtown now led 18-10.
The game was in effect decided in the next twenty minutes, with Newtown having reversed the circumstances of the match through obtaining more possession and putting pressure on the Bulldogs at their end of the Stadium.
Misty rain in the second half might have led to some handling errors, but the television commentary team praised the overall standard of the game and declared what a terrific advertisement the match was for the NSW Cup competition. Mark Carroll was forthright in declaring that "this was the best NSW Cup televised fixture he had seen in the past two years."
The edge was slightly off Canterbury's play in the second half and the Bulldogs had kicked the ball dead on two occasions, giving the Jets the chance to strike back through having seven-tackle sets of possession.
Newtown's five-eighth Daniel Atkinson's unorthodox try in the 73rd minute virtually sealed the result, and it was certainly rare to see a giant forward like Tuku Hau Tapuha put in a grubber kick on the sixth tackle that resulted in a converted try for the Jets.
The second half statistics showed that Newtown had caught up to Canterbury in total metres run with the ball after their first half deficit; and that the Bulldogs had missed a total of 26 tackles to Newtown's 15, which probably partly explains Newtown's turnaround in the second half.
Veteran winger Josh Mansour was described as "the Grand-Daddy of the Jets team" when he scored in the north-west corner in the 79th minute. To quote Fox League's Mark Russell and Mark Carroll again, "this had been a game of NRL standard and a truly stirring physical encounter."
Jets head coach George Ndaira rated Jacob Gagan and Jayden Berrell as being Newtown's best players, along with Brad Fearnley and Caleb Uele who both made big contributions in defence when they came off the bench. Berrell is regarded by many well-informed judges as being one of Newtown's best hookers since the club re-entered senior rugby league football in 1991.

Ndaira also praised Newtown's defence when they were down to 12 men, and he judged Connor Tracey's first half try as providing an enormous morale boost to the Jets when they most sorely needed one.
Newtown's defensive effort throughout the first half when they had less possession was an important factor in the win.
He added that it was pleasing to see set-plays and ball movements that are repeatedly practiced at training put to valuable purpose in the real-life match situation.
The Newtown Jets return home to Henson Park this Saturday, 29th April, when they will play North Sydney in the 9th round of the NSW Cup. This match is timed to commence at 3.00pm, and is the first leg of the annual Frank Hyde Shield series between the two 1908 Foundation Clubs.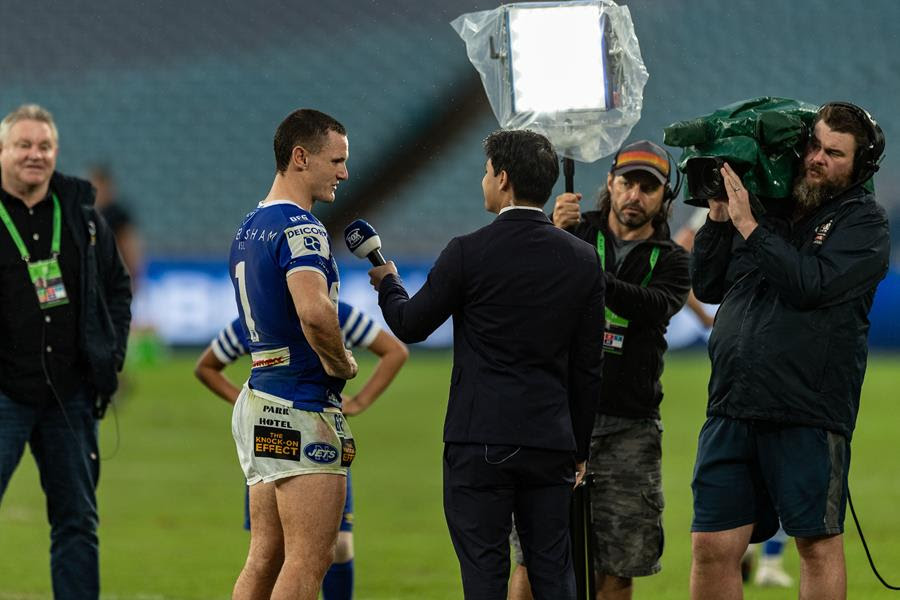 Above: Newtown Jets fullback and double try-scorer Connor Tracey is interviewed by Fox League's Niko Pajarillo at fulltime.

NSWRL Knock-On Effect NSW Cup – Round Eight
Saturday, 22nd April 2023
Accor Stadium
Canterbury-Bankstown (in first place) versus Newtown (in third place)
Kick-off was at 3.05pm.
This match was televised live on Fox League.
(Commentators: Matt Russell and Mark Carroll. Interviewer: Niko Pajarillo).

Above: Newtown Jets centre and try-scorer Kayal Iro is also interviewed post-match by Niko Pajarillo from the Fox League channel.

Playing surface: Excellent playing surface, slippery because of light rain.
Weather: 18 degrees; very little breeze; overcast, misty rain falling.

Referee: Matt Noyen.
Touch Judges: Liam Nicholls and Tom Cambourn.

Above: Newtown Jets captain and lock Billy Magoulias gets his pass away as he is brought down by a Canterbury Bulldogs defender.

Match Result: –

Newtown 28:
Connor Tracey 2, Kayal Iro, Daniel Atkinson, Josh Mansour tries;
Mawene Hiroti 4 conversions
defeated
Canterbury-Bankstown 10:
Harry Hayes, Blake Wilson tries:
Bailey Hayward 1 conversion.

Half-Time: Canterbury-Bankstown led 10-6.

Above: Jets forward Brad Fearnley (in possession) shows what a difficult proposition he would be for Canterbury Bulldogs defenders.

NSWRL Knock-On Effect NSW Cup Highlights | Canterbury Bulldogs v Newtown Jets – Round Eight:
https://www.nswrl.com.au/news/2023/04/23/nsw-cup-highlights--bulldogs-v-jets—round-eight/

The NSWRL Knock-On Effect NSW Cup competition table after 8 rounds:
https://www.nswrl.com.au/ladder/?competition=113&round=8&season=2023

Some Newtown Jets try clips: –
Connor Tracey's first try: https://twitter.com/newtownrlfc/status/1649652173444386816
Connor Tracey's second try: https://twitter.com/newtownrlfc/status/1649656853390041089
Kayal Iro's try: https://twitter.com/newtownrlfc/status/1649658862763638785
Daniel Atkinson's try: https://twitter.com/newtownrlfc/status/1649664738606059521

Above: Newtown forwards Charbel Tasipale (left) and Caleb Uele have halted this Bulldog's progress.

Newtown's team was: –
Fullback: Connor Tracey
Wingers: Josh Mansour and Samuel Stonestreet
Centres: Mawene Hiroti, Kayal Iro
Halves: Daniel Atkinson, Niwhai Puru
Lock: Billy Magoulias (Captain)
Second-Rowers: Jacob Gagan, Charbel Tasipale
Front-Rowers: Tuku Hau Tapuha, Jesse Colquhoun
Hooker: Jayden Berrell.
Interchange: Tyler Slade, Caleb Uele, Kyle Pickering, Brad Fearnley.
Reserve: Harrison Geraghty.
Coach: George Ndaira.

Canterbury-Bankstown: –
Fullback: Karl Oloapu
Wingers: Harry Hayes and Blake Wilson
Centres: Eli Clark, Reece Hoffman
Halves: Khaled Rajab, Bailey Hayward
Lock: Kurtis Morrin
Second-Rowers: Kitione Kautoga, Harrison Edwards
Front-Rowers: Samuel Hughes, Jackson Topine
Hooker: Zac Hetherington.
Interchange: Joash Papalii, Jayden Tanner, Jack Stringer, Billy Tsikrikas.
Reserve: Michael Gabrael.
Coach: David Tangata-Toa.

Above: Jets fullback Connor Tracey (in possession) is in red-hot form and was a tremendous asset to Newtown on Saturday. Five-eighth Daniel Atkinson is on the left of the picture.

Match Timeline:
13th minute: Harry Hayes try; converted by Bailey Hayward.
15th minute: Canterbury Bulldogs 6-0.
24th minute: Blake Wilson try; not converted.
26th minute: Canterbury Bulldogs 10-0.
28th minute: Kitione Kautoga on report for a late tackle.
30th minute: Billy Magoulias on report for a dangerous tackle and sin-binned.
36th minute: Connor Tracey try; converted by Mawene Hiroti.
38th minute: Canterbury Bulldogs 10-6.
40th minute: Billy Magoulias back on the field.
40th minute: Mawene Hiroti misses with a long-distance penalty goal attempt.

Half-Time: Canterbury Bulldogs lead 10-6.

45th minute: Connor Tracey try; converted by Mawene Hiroti.
47th minute: Newtown 12-10.
50th minute: Kayal Iro try; converted by Mawene Hiroti.
52nd minute: Newtown 18-10.
73rd minute: Daniel Atkinson try; Mawene Hiroti conversion.
75th minute: Newtown 24-10.
79th minute: Josh Mansour try; not converted.
80th minute: Newtown 28-10.
Full-Time: Newtown 28 defeated Canterbury-Bankstown 10.

Above: Newtown's livewire five-eighth Daniel Atkinson confronts the Canterbury halfback Bailey Hayward (grandson of the former Newtown Jets five-eighth Paul Hayward.)

Newtown's next game details:
NSWRL Knock-On Effect NSW Cup – Round 9
Saturday, 29th April 2023
Henson Park
Newtown v North Sydney
Kick-Off: 3.00pm.
This match will be shown live on NSWRL TV (NSWRL Facebook).

Fulltime at the former Sydney Olympic Stadium (now known as Accor Stadium) always has somewhat of an aura for visiting teams.

News on Newtown's partnership club, De La Salle:
In the 2023 Mojo Homes Illawarra Cup competition, Newtown's partnership club De La Salle defeated Thirroul Butchers 18-13.
This match was played on Saturday, 22nd April at the Captain Cook Oval, Woolooware.
Former Newtown players and current Jets squad members who played for De La Salle in this match included:
Tyla Tamou, Thomas Rodwell, Jensen Taumoepeau, Trentham Petersen,
Jack A. Williams, Wes Lolo, Eli Levido, Kai Parker, Adam Fearnley,
Jackson Stewart and Isaac Longmuir.

Above: Newtown's top class hooker Jayden Berrell receives some "special treatment" from a Canterbury opponent on Saturday.
Above: Jayden Berrell in ball-playing mode on Saturday. He is unarguably one of the best forwards in the 2023 NSW Cup competition.
Above: The outstanding young forward Jesse Colquhoun (above) made a welcome return from injury to the Newtown playing ranks on Saturday.
Above: Another image of Jesse Colquhoun as he collides with these Bulldogs defenders.
Above: Newtown's winger Josh Mansour is interviewed before the game by Fox League's Niko Pajarillo at Accor Stadium on Saturday. (Twitter).
Above: Jets winger Josh Mansour dives over to score in the north-western corner of Accor Stadium in the 79th minute of Saturday's absorbing match between Newtown and Canterbury-Bankstown.
Above: Jets players (from the left) Josh Mansour, Charbel Tasipale and Harrison Geraghty exchange pleasantries after Saturday's hard-fought win.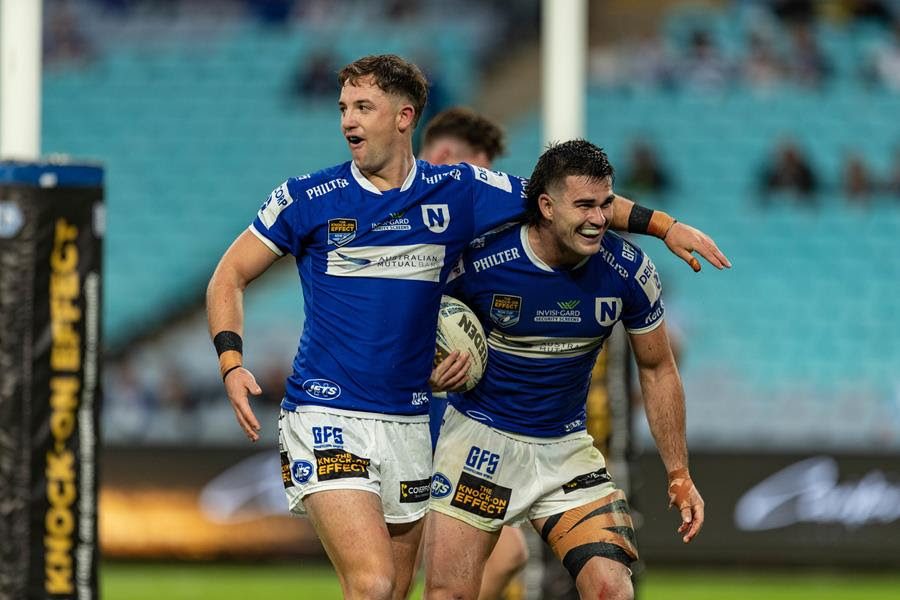 Above: Newtown centre Kyle Pickering and Daniel Atkinson celebrate Atkinson's try in the 73rd minute that virtually sealed victory for the Jets.
Above: Reliable Jets centre Mawene Hiroti brought his goal-kicking boots with him to Accor Stadium on Saturday. He converted 4 of Newtown's 5 tries and he missed one long-range penalty goal attempt just before halftime.
Above: Jets halfback Niwhai Puru played a valuable role as a linkman in several of Newtown's tries against the Bulldogs.
Above, from the left: Niwhai Puru (number 7), Daniel Atkinson, Kayal Iro and Josh Mansour celebrate Iro's try in the 50th minute that extended Newtown's lead over the Bulldogs.
Above: Jets winger Sam Stonestreet charges into a thicket of Canterbury defenders. The Newtown players in the background are (from the left): Daniel Atkinson, Jayden Berrell, Tyler Slade and Billy Magoulias.
Above: Sam Stonestreet has gone high for this kick while Mawene Hiroti (left) awaits the outcome.
Above: Sam Stonestreet is in possession with Connor Tracey in close proximity.
Above: Newtown's giant forward Tuku Hau Tapuha embraces Canterbury's Bailey Hayward (number 7) at fulltime in Saturday's match.
Above: Newtown's majestic Tuku Hau Tapuha in full stride at Accor Stadium on Saturday afternoon.
Above: Jets backrower Tyler Slade gets the ball moving in the tough going against the competition leaders Canterbury on Saturday.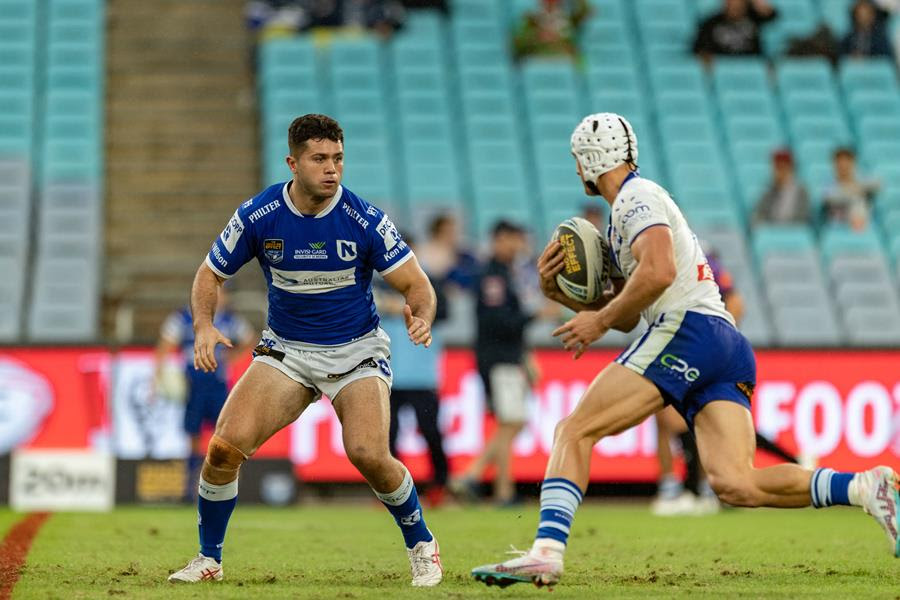 Above: Tyler Slade, a former Junior Kiwis forward, lines up this Canterbury ball-runner in Saturday's high-standard match at Accor Stadium.
Newtown Jets respect and honour the Traditional Custodians of the Land and pay our respects to their Elders past and present. We acknowledge the stories, traditions and living cultures of Aboriginal and Torres Strait Islander peoples on the lands we meet, gather and play on and that the land area encompassing Henson Park traditionally belonged to the Gadigal people of the Eora nation.