North Sydney vs. Newtown
Sunday 11th June, 3.00 pm
North Sydney Oval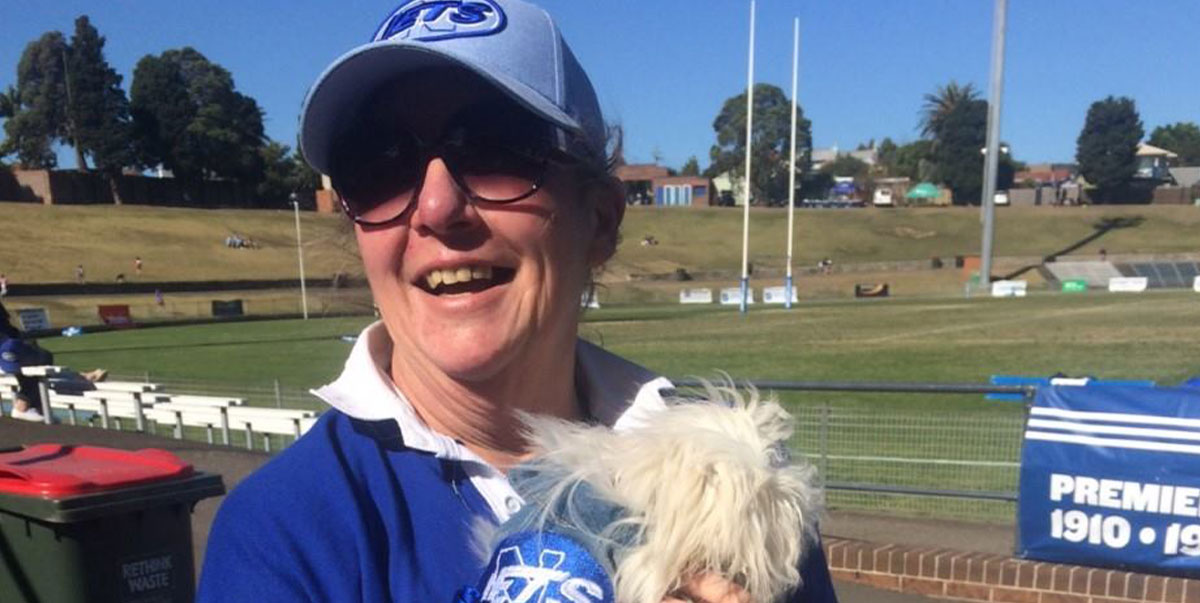 Meet the Members: Kim Fuller
This year we'll be regularly publishing a series of interviews with Newtown Jets members to find out more about them and why they love the club.
Today we're starting with Kim Fuller (Member #365), a Royal Blue Legends Club member who has also made a valuable contribution to the club as a volunteer and was a driving force behind 2020's 'Laps With Trady' fundraiser.
//
//
Q: First things first. How long have you been a member for?
Since 2014
//
//
Q: Do you remember your first time going to Henson Park?
Yes, it was 2013 at the beginning of the season and my friend Deb and I decided we'd go down. We thoroughly enjoyed it, so I kept coming back.
//
//
Q: What made you enjoy it so much?
I think from the time we walked through those gates, we just felt like we were part of the community as we were instantly accepted. Henson Park is my happy place, you can go there and just forget about all your troubles, it always puts a smile on my face.
//
//
Q: What made you a Jets fan?
I've been thinking about that. Even though my first Henson Park game was in 2013, I've liked the club since I was in my early teens, probably because of the players. I obviously took a liking to someone. I just can't remember who they were (laughs).
//
//
Q: You actually come a long way to attend our games, though, don't you?
I live out in the Western Suburbs at the moment and it takes me about an hour to get to Henson. I'm actually moving to the Blue Mountains soon, so it will end up being about an hour and 40 minutes.
//
//
Q: But it's worth the trip, right?
Of course it is. I wouldn't do it if I didn't love it (laughs). I've made a lot of good friends down at Henson Park, so it's worth going down there just to see them.
//
//
Q: What are some of your favourite memories of being a Jets fan?
2019 would have to be the best for me. Winning the NSW Cup Grand Final and then the State Championship. Watching both games and thinking "oh, we're not going to do this," and then for Billy Magoulias to put in two perfect kicks on back-to-back weeks was just perfect.
//
//
Q: You were quite involved on those days weren't you?
Yes, I decorated the Petersham RSL club beforehand and was the marshal on one of the buses that took the fans out to the stadium.
//
//
Q: What is the best thing about being a Newtown member?
Just knowing that you're supporting the club. I also go down to training – you get to get to know the players and training staff on a social level, which is great. What also sets it apart from being a member of an NRL club is that at Newtown, you're not just a number. You're a person and no matter who's there, you always get treated as a person. You make friends with everybody. It really is a family.
//
//
Q: Who have been some of your favourite Newtown players over the years?
Matty Evans, Kurt Kara, Addison Demetriou and Daniel Mortimer.
//
/
Q: Lastly, would you mind telling us about your role with the Laps with Trady fundraiser?
I remember Trady rang me and said "I have this great idea to generate funds for the club by doing laps" and I said "Ok, Trady, I'll help you out." So I thought about it and put together a concept to the club which worked out really well. Each week I organised meeting times and ensured that the laps were completed, posted information on LWT Facebook Page- while also putting together some Auctions and merchandise.
//
//
Q: How many laps did John actually do?
A: He completed 800 laps, but there was one week he was injured, so Jetman did that week on a borrowed bike from one of the kids there at Henson (laughs).

The Jets are taking off again in 2021 and we want you to get on board. Grab a 2021 membership now!
Newtown Jets respect and honour the Traditional Custodians of the Land and pay our respects to their Elders past and present. We acknowledge the stories, traditions and living cultures of Aboriginal and Torres Strait Islander peoples on the lands we meet, gather and play on and that the land area encompassing Henson Park traditionally belonged to the Gadigal people of the Eora nation.